[Editors Note: This review contains mild spoilers for The Mandalorian]
Much to my relief, there are no spiders this time around, but the creature-feature habit of The Mandalorian's second season doesn't seem to be slowing down anytime soon. The first episode was the sand dragon, last time was *shudders*, but the weirdos of the week for 'Chapter 11: The Heiress', classily directed again by the divine Bryce Dallas Howard, seem to be a whole host of amphibious delights, ranging from the Ackbarian Mon Calamari's, to a group of Davy Jones-looking sailors, to their caged octopus beast that they try to feed Mando and Baby Yoda to faster than you can scream "IT'S A TRAP!!"
I wonder if this is a specific theme of Season 2 that hasn't revealed itself yet, or whether it's the production/costume design really wanting to be front and centre, but either way, I'm enjoying the ever-interesting expansions to the Star Wars universe – and I'm enjoying it a lot more than the expansions to the story, because sadly once again, there aren't that many. We have another enjoyable but sort of filler episode where the Mandalorian and the Child wander around a nice new expensive-looking set in search of Mando buddies, and offer a hand (and a blaster) to anyone who needs it at the time. But what it lacks in forward momentum it actually quite nicely makes up for in small character moments that neatly encapsulates the journey we've gone on with our boys.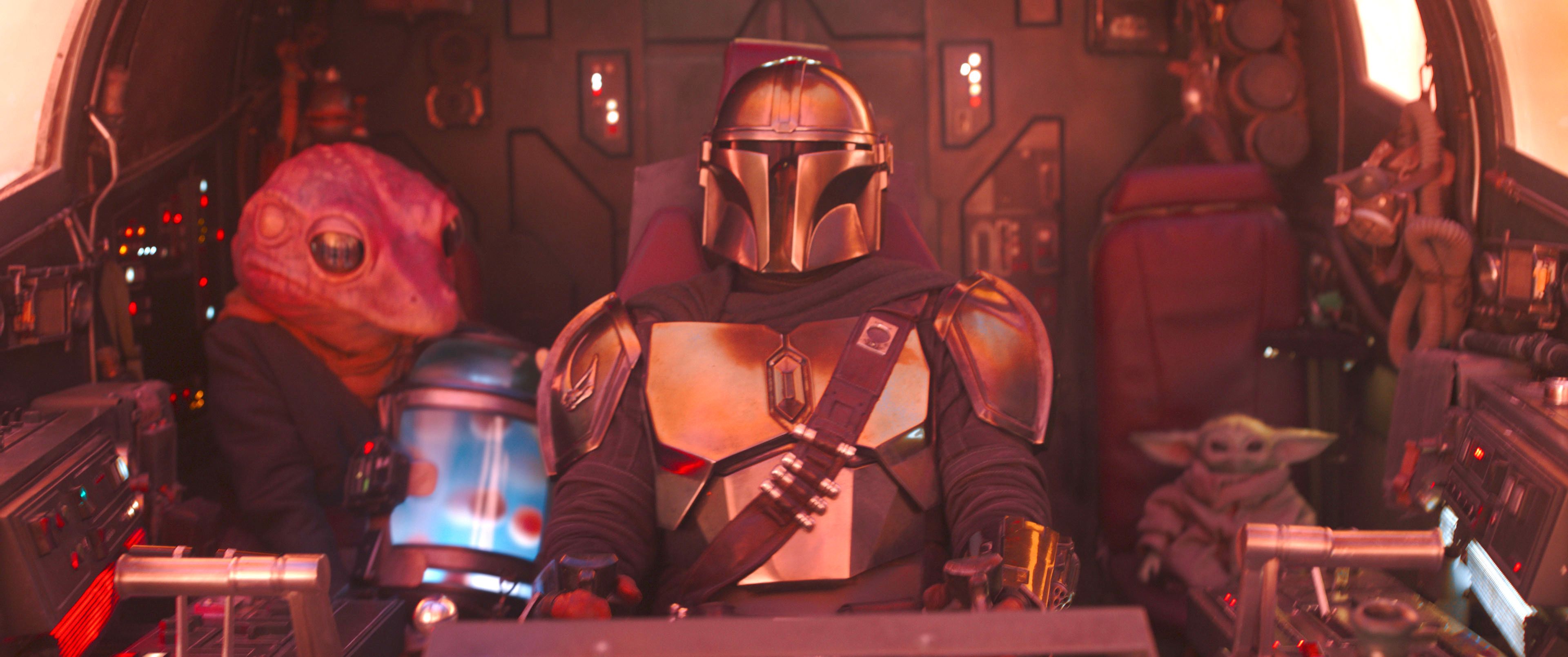 This time, we find them once again resolving the events of the previous episode, catching their breath before gearing up for the next ball ache – we get the touching moment between the Frog Lady getting to her Mr. Frog – setting up how this is an episode (and a series) with the idea of reunion with your own people heavily on its mind as much as it's about coming together with a coalition of people with different backgrounds and experiences. After being pointed in the direction of some sailor fishies who might be able to help them, Mando and the Child are betrayed almost immediately – but before they can both die rather embarrassingly for two quite storied adventurers, the duo are rescued by – some Mandalorians!
Except they also take their helmets off. I guess not – but wait! They're still Mandalorians! Not only do they subscribe to a less Puritanical creed than our guy – hence they're allowed to remove their helmets (and resolve a plothole from The Clone Wars), but they're led by none other than The Clone Wars' Bo-Katan – with previous voice actress Katee Sackhoff bringing her to life just as delightfully with her physicality (and striking resemblance) as she did with her voice for years on the animated show. Also, their more flippant regards to the Creed again alludes to a theme I talked about really liking in the first episode – what makes a Mandalorian? Their quest that Mando helps out with ends up relating to the Darksaber, an old Mandalorian weapon that is currently (and concerningly) owned and wielded by Gus Fring himself Regarding his character, Giancarlo Esposito's brief but spine-tingling return is great even in hologram form, and I can't wait to see him back at the height of his creepy powers.
And so, we end up with another exciting time that nonetheless still leaves everyone involved back in the same position – looking for answers – and that extends to the audience too. Filler is fine – it's fine! – but when your first three episodes extend to mostly that, there's a small but creeping sense of emptiness behind the action and the joy that frequents the show regardless. Or it would if it weren't for, like I said, the small moments. For starters (someone else pointed this out on Twitter but it's too clever not to note), the shot of Bo taking Mando's hand to pull him out mirrors closely the shot of the same thing happening in Season 1's flashback to his childhood. Using the same visuals to suggest they are two moments when the Mandalorian needs to accept his vulnerability and the help of someone else? Nice work Bryce! (Maybe she should have directed Hillbilly Elegy.)
The relationship between the Mandalorian and the Child is so effortlessly sweet and wonderful, that it can't help but carry the show throughout everything. This episode has Mando, without any speech or big moment signposting this, assume the role of dad more than we've ever seen him before; between helping him eat, or telling him to behave himself when he leaves him with the Frogs to go to work, it's never not wholesome as hell. And although Baby Yoda isn't going to go out by getting eaten by a weird squid, Pedro Pascal's heart-stopping cry and instant dive into the fray to save him grants the moment so much weight that it works beyond a temporary scare or action beat.
Ever since that heartstopping moment at the end of last season when robo-Waititi removed the helmet and finally revealed Pedro Pascal's wounded (and beautiful) face, we've been constantly reminded that under that badass armour is a tired young man ultimately full of heart, soul and terror of failing the ones he's grown to care about despite himself. The Mandalorian continues to be a masterclass in the Kuleshov effect, and Pascal (with invaluable help from his body doubles Brendan Wayne and Lateef Crowder) rises to it. Every head turn, every miniscule crack in his voice, reminds me of the man under the mask, and how far he's come.
So to clarify – I'm having fun! This is a great show with top-tier production values and it has a confidently clear sense of its world and characters that makes me trust the destination, despite my eyebrows raising ever-so-slightly at the glacial nature of the journey. Once again we are hinted at yet another tantalising reappearance by a fan-favourite character, and I can't wait to see them again. But… next week we'll be halfway through, and I'm trusting that it will begin to tighten as it goes on instead of continuing to spin, compulsively watchable as it remains to be. But to be honest, as long as the things it spins are not SPIDER WEBS, I'm still all good.
Season two of The Mandalorian is streaming every Friday from Disney+